About Us
MUSICODE INNOVATIONS is a small, independent company seeking to offer innovative music products. The flagship product, the MidiWing MIDI controller promises to bring real music making to people without the abilities to have success with traditional musical instruments.
Dan Daily is the company president and inventor of MidiWing. Dan earned his undergraduate degree and Advanced Certificate in Music Education at the University of Illinois at Urbana-Champaign and earned a Masterís degree at Indiana State University. He has been a lifelong performing musician playing many traditional musical instruments in orchestras, concert bands and smaller groups in many musical styles including classical, jazz, rock, pop, blues, reggae and Americana. He currently teaches music at the University of New Mexicoís Taos campus.
Musicode Innovations received the 2011 New Mexico Small Business Innovation Award at a ceremony in Santa Fe in May, 2012. We received assistance which enabled us to complete the design of the new prototype.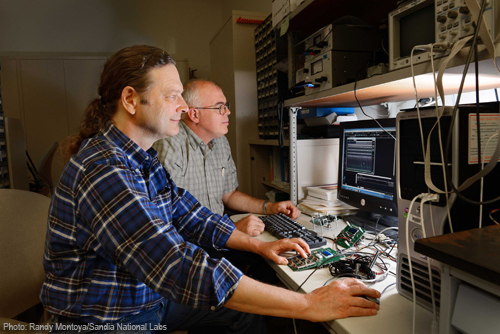 Dan Daily (left) and Kent Pfeifer, engineer at Sandia Labs, test the new MidiWing prototype.
In the future, Musicode Innovations will offer other inventions of Dan Daily such as The Daily Ultra-Vibration Ligature for single-reed woodwind instruments, a new design for instrument stands, a reversible action D footjoint for the flute, a custom trumpet design and many others.
---